(Note gallery photos come up in random order each time you reload page.
Scroll over picture to pause slide show)
---
Photos by Dona Frank-Federico
Thank you to Leo Kinsella for maintaining the information board at the entrance of Eagle's Pointe. Maintaining the board is an ongoing effort to keep our residents informed and we deeply appreciate the time and effort Leo devotes to this project. Thank you Leo!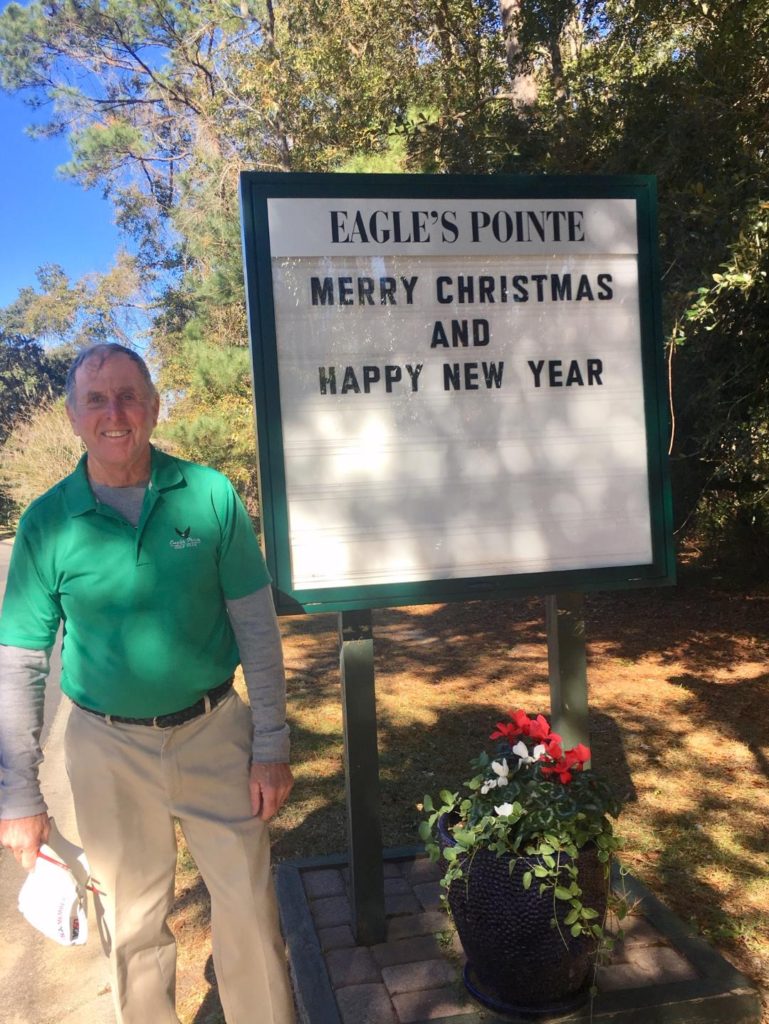 ---
2018 Christmas Party
---
Eagle's Pointe Gives Back 2018!
A huge thank you to the residents that donated to Eagle's Pointe Gives Back 2018! The program was a great success and the staff at Memory Matters was deeply appreciative. Thank you for your generosity!
---
2018 Christmas Golf Cart Parade
Video — Click on small square at bottom right of video to play full frame.
Photos
---
2018 Christmas after Parade Party
June 2, 2018
New Exercise Facility

Photos by Dona Frank-Federico
---
May 28, 2108
Memorial Day Party

Photos by Dona Frank-Federico
---
Eagle's Pointe Board of Directors — April 14, 2018
We are pleased to announce that Eagle's Pointe pool renovation project has been completed. Both the pool and kiddie pool have been resurfaced and tiles have been replaced for a brighter, cleaner look. A step and a hand rail have been added to the kiddie pool. An arborist was hired to trim the large Live Oak to the east of the pool. New patio furniture, some with colorful umbrellas, has been purchased. As always, the pool is cleaned on a daily basis. We look forward to community members enjoying our beautiful pool area more than ever this season. Stay tuned for more to come as we continue to strive to keep Eagle's Pointe the fantastic community it is. Happy Swimming! If you do not have an amenity card to access the pool, please contact BOD members Craig Onofry or Pam Kinsella.
The Eagle's Pointe BOD
Photos by Dona Frank-Federico

---
Neighbor submitted photos

---
Photos by Dona Frank-Federico
---
Photos by Nancy Mead
2419